WaterHog Sculptures Mat
Product Number 355 (classic border), 350 (fashion border)
WaterHog Sculptures mats feature your custom logo permanently molded into a WaterHog mat.
Clean & Dry - Bi-level surface effectively scrapes dirt and moisture from shoes, trapping it beneath shoe level to prevent tracking; water dam border holds moisture keeping it off your floors (WaterHog mats can hold up to 1 1/2 gallons of water per square yard)
Durable & Fade-Resistant - Reinforced rubber nubs prevent pile from crushing and extend the performance life of the mat; solution-dyed fabric is fade-resistant
Safe - Beveled edges provide a safe transition from floor to mat; certified high-traction by the National Floor Safety Institute (NFSI)
Available in 12 fabric colors with choice of classic (rubber) border or fashion (fabric) border
Eco-Friendly - PET fabric (24 ounces/yard2) is made from at least 90% recycled content reclaimed from plastic, and SBR rubber backing contains 20% recycled rubber from car tires
Since custom molds must be created for this mat, minimum order quantities are required on the first order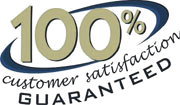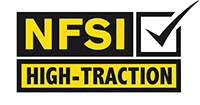 2' x 3' (23" x 35")
3' x 4' (35" x 45")
3' x 5' (35" x 58")
4' x 6' (45" x 69")

Please note, mat sizes are approximate as rubber shrinks and expands in conjunction with temperature and time. Tolerable manufacturing size variance is 3-5%.
SURFACE
Material: Solution-dyed PET (polyethylene terephthalate); may contain up to 3% latex
Weight: 24 ounces/yard2
Construction: Needle-punched
Design: Squares
BACKING OPTIONS
Material: SBR rubber - smooth or universal cleated
Thickness: 78-mil (body thickness 78-mil; border thickness 143-mil)
Overall Mat Thickness: 3/8 inch (0.375")
STANDARDS & TESTING
Passes CPSC-FF1-70 for the surface flammability of carpets
Certified high-traction by the National Floor Safety Institute (NFSI)
WaterHog Sculpture mats can be cleaned using the following instructions:
Vacuum regularly (daily in high-traffic commercial areas; weekly in lower-traffic areas)
Extract or hose off as needed to remove heavy soil/debris
Hang mat to dry
Always make sure the mat is dry before placing it back in service.